midi pack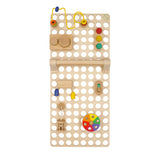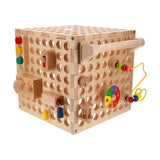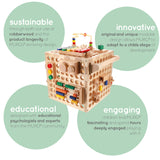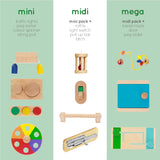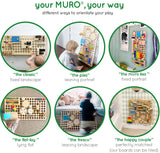 introducing MURO®: the award-winning activity centres
We believe that playing is learning; so MURO has been designed with the help of educational psychologists to encourage children to play and explore the world around them through their senses.
The MURO® system consists of two parts: base and toys. The base is the foundation of the system with the distinctive hole grid that is the trade-mark feature of a MURO®.
The board is designed to be fixed to a wall (screws included) providing children with a vertical play space which they'll love and perfect if you're strapped for space or just want something neat and tidy!
The cube is a free standing cube that is super sturdy and can be moved around from room to room, and with 4 sides to play from it's perfect if there is one that one child who might be interested in it - finally a toy they can share!
All of our toys are fitted with special connectors and simply press into these holes, meaning that you can easily create your own unique activity centres or encourage children to build their own. Either way MURO® will grow and adapt to a child's stage of development
The midi pack comes with your choice of either the board or cube...
...and all of these toys! Click each one for more information about the specific play value of each of them.
age range - suitable for children from 12 months up to 4 years old depending on the child. We are constantly developing toys to provide new activities and keep children engaged for longer! Join our mailing list to keep up-to-date with new releases
materials- both of the bases are made from sustainable birch-plywood that is finished to maintain the natural beauty of the colour and grain. Our toys are made from rubber wood, which is grown locally to our factory as part of the latex industry before being repurposed into toys!
safety - Our toys are tested by independent laboratories to meet both European (EN71) and American (ASTM) standards. We also carry out our own in-house testing of our toys to ensure the standards are maintained throughout their production
If there's anything you would like to know please don't hesitate to get in touch with us - info@mymuro.com